People have questioned the relevance of teaching and using handwriting in schools in an increasingly multi-modal world. While text and other input sources are becoming more common, we still have a way to go in terms of digital device access in many of our schools. It's also still a handwriting dominated sector in that students are required to sit high stakes tests by writing their answers by hand. Until this changes students will need to maintain their handwriting skills. This posts looks at some opportunities to integrate the iPad with handwriting.
Using Handwriting
App guides have done a great job of summarising the best of the
handwriting apps for the iPad
. My pick of the bunch is 7notes HD Premium. The handwriting-to-text feature makes the cost worthwhile and it learns your handwriting to give you more accurate results over time. I like the spelling feedback this handwriting converter gives students before they convert their writing to text.
Effective use of these types of applications requires a stylus. You can pick up bulk sets of rubber ended styli online at very reasonable prices. The frustration I have with this style of styli is the thickness of the rubber end which can obscure the view of what you are doing. My personal choice of stylus is the
JotPro
- the clear tip allows for accurate placement, drawing and it glides smoothly over the iPad surface. I also like the fact that it is magnetic and will attach to the top of my iPad during a meeting when I am not using it.
Learning Handwriting
This is one area where iPads must take a limited role, working to enhance a broader comprehensive handwriting program. I've listed a number of possible apps below sorted by handwriting phase. Much like the handwriting use apps above, students will require a stylus and support with stylus grip to gain the benefits from most of the apps.
Phase 1: Pre Writing
Ready to Print
$10.49
Created by an occupational therapist this app takes a developmental approach to pre-writing skills, developing visual-motor, visual-perceptual, and fine motor skills.
Work through a series of activities:
- touch to transform
- ordered touch
- matching
- paths & shapes
- connect the dots
- pinching
- letters and free draw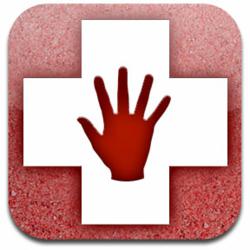 Dexteria
$5.49
Presents a series of hand excercises designed to improve small motor control in a highly motivating fashion.
Students use finger and hand movements to work through a series of stages in the three categories of tap it, pinch it and write it.
Phase 2: Letter formations
School Writing $5.49
School writing allows you to select handwriting font (choose from a range of Australian, NZ, US and UK styles) and practice handwriting by tracing shapes, numbers, upper case letters, lower case letters and words.
You can add your own words and customise images and sounds.
Phase 3: Joins
Cursive Lessons $0.99
Cursive lessons provides a series of videos, one for each letter, modeling how to form letters in a cursive script.
Cursive Practice $FREE
Practice cursive handwriting by tracing upper and lower case letter, words, sentences and numbers on a 'chalk' board.